When I have to say something about my paintings, I always think back to my student days and quote Philip Guston, who was then teaching at Boston University College of Fine Art: We are image-makers, and image-ridden, after many years I see how my own images do follow me.
My mother has always had presence in my art, and its most characteristic images are rooted in my childhood. When I began the pastel Hidden Ghost my thoughts went back to Ibsen and Ghosts: the slim easel, the masculine door, the feminine table, are for me inexhaustible motifs.
Hidden Secrets, Nostalgia, and My Palette look at rooms – that is to say at enclosed, yet not totally enclosed, space – rooms that reveal yet conceal, and floors whose markings and reflections are a reading of time. The central lights from the window pulls the narrative together and creates the magic.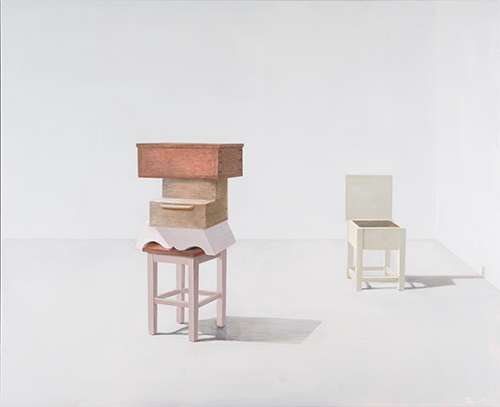 The two versions of Group Analysis look at the meeting of object together with object. My paintings are scenes taken from life, focusing on belonging, loneliness, community. For me what is important is to catch the interplay of nuance between what is seen and the ambiguity of what lies behind.
Kinds of Togetherness was painted in 2007, when my classmates and I celebrated our jubilee. I thought back to those early days, the random assignment of students to classes – and the resultant problem for teachers of how to get such ill-assorted personalities to function smoothly together in the same room. Too often the result is the formation of an A and a B group. It took an entire summer to weave together my perceptions of these objects.
Golden Morn is about a yellow bedside table. To the right its dark-blue cousin is heavily loaded; but the yellow stands free to dance out into life if it will. Unburdened by inheritance.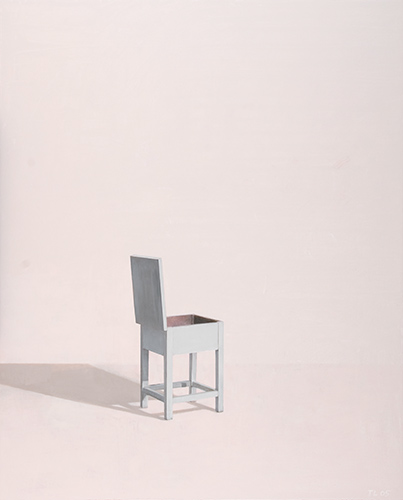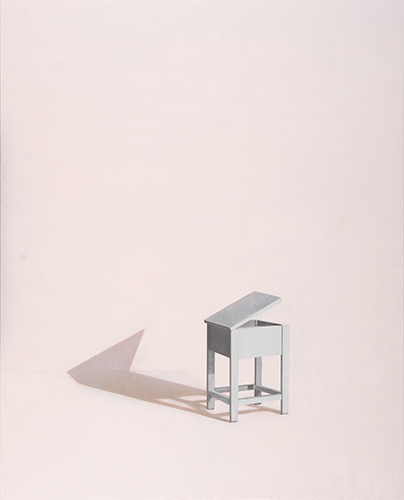 In Secrets and Shadows a shadow defines the room, shaping wall and floor. This triptych 'reads' for me as a portrait of my dear box-chair, which has followed me through life.
In Support, painted in two versions, my good old stool supports a newly-stretched canvas and is in silent dialogue with it. The shadow has its own identity.
Delegation … a flash of light … they play of shadows on floor and wall defining yet changing it all. In the painting I see such shifts, bringing it to life. The door confronting us is the central actor in the story; light and shadow bind the narrative.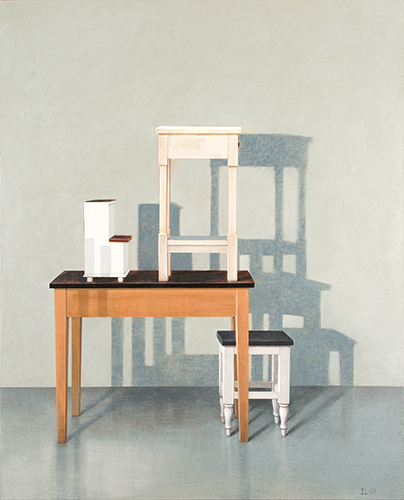 The Heights of Civilization, painted in two versions, is a white picture. I thought of Greek temples and white marble while I painted it. The stacked furniture and the shadow behind them create an illusion of Greek architecture and colonnades. Thoughts of antique fresco inspired the treatment of the surface. I could not free myself from my preoccupation with the motif, and painted a new version where the paint was thicker and the coloring fresher.
Reflections and Possibilities is a two-part motif derived from my husband's studio. To the left, the painting shows a real room, the door-opening leading to a studio equipped with a book-case. The room on the right, viewed via large mirror, is impressionistic. Reality and illusion are set side-by-side and invested with equal authority. This is another picture that brought thoughts of Ibsen to my mind: in this case The Wild Duck, where the characters move between reality and dream.
Sleeping Shadows, Visitor in the Night, Delegation 19, and Threading a Path 20 arose virtually from the ashes: a fire in my daughter's apartment giving the impulse for all four. All are painted on black grounds, which was something new for me. As the images took shape, I sought for a light that could bring the objects back to life after the fire.
Ida Lorentzen
Nesøya, May 17th 2009